Symon Ogbourne – Emigrant to Virginia – 1652
was one of 28 brought to Virginia in 1652 by Thomas Steevens. Many modern Ogburns /Ogbournes in the USA are descended from this man. Details of the party are shown below:
---
April 2018: Research proceeding by website editor to find further information of Symon in England prior to his emigration to the USA.
It seems highly likely that Symon will have had an involvement in the The English Civil War (1642–1651) which was a series of armed conflicts and political machinations between Parliamentarians ("Roundheads") and Royalists ("Cavaliers") over, principally, the manner of England's government. The war took place first (1642–1646) , second (1648–1649) and third (1649–1651). The war caused great loss of life and devastation in England, Scotland & Wales. The war ended with the Parliamentarian victory at the Battle of Worcester on 3 September 1651.
The city of Gloucester saw much action during the war including resisting Royalist action to take control of Gloucester, an important strategic city.
---
Thomas Steevens, 1400 acres at.Lancaster Co., 2 Sept. 1652, p. 120. Upon S. E. side of Farnom Creek., extending N. N. E. from land of Leroy Griffin to the head of Creek, to land of Thomas Griffin &c. Transfer of 28 persons, as follows:
Robert Savidge, Richard Eules, Edward Gibbs, Ra. Waddington, Tho. Quinee, Elizabeth Sutton, Sarah Powell, Thomas Sanders, Provost Nelson, Frank Monkes, Henry Purchase, Alice Travabin(?), Symon Ogbourne, Thomas Browne, Richard Dibbins, Jane Fenton, John Miles, Thomas Hewes, Jane Willis, Grace Legg, Mr. Wm. Whitby.
Extensive researches have been undertaken to trace the origin of Symon in the UK and it seems likely (though not proven) that Symon came from the City of Gloucester in the west of England, where several generations of Symon Ogbournes lived before this date. The following references to a line of Symons in Gloucestershire have been found, although research has been hampered due to the absence of a number of church registers of births and marriages in the early part of the 17th century.
A study of the surnames in the group was made to try to establish clues to the origin in England of these people, but the surnames proved to have no close correlation with specific parts of the country.
A reference to a Symon Ogborne, aged about 20 of Hardwicke, Gloucestershire is found in "Men & Armour for the County of Gloucester" in 1608. This record was compiled on the King's instructions to identify the men available and fit to fight in a war with France. The men with variants of the Ogb*rn* name were as follows:
Hardwicke [in Elmstone Hardwicke parish, Cheltenham]
Simon Ogborne. A20. lower stature.
No occupation was given for Simon, who was recorded of 'lower stature' – i.e. height.
Thornbury [South Glos.]
Anthony Ogborne butcher. A60. middle stature.
Maugersbury [Stow on the Wold]
Thomas Soogburne servant to John Freeman. A40. middle stature.
Thornbury [South Glos.]
William Ogburne scrivender. A40. middle stature
'Men & Armour Gloucestershire 1608′ "contains a fairly complete list of all the men from the ages of 16 to 60 in Gloucestershire in 1608″.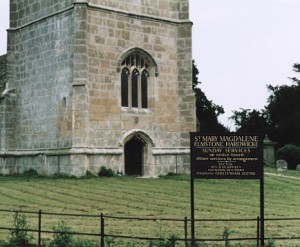 Searches in the church records of Hardwicke, (now known as Elmstone Hardwicke) near Cheltenham Gloucestershire have been unrewarding – no record of an Ogbourne in the following records was found in :
Baptisms 1564 – 1652
Marriages 1594 – 1612
Burials 1608-1620
This suggests that Symon's residence in [Elmstone] Hardwicke was temporary, rather than long standing.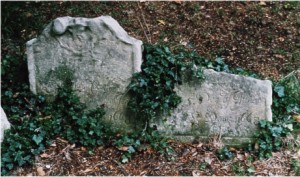 17th Century Gravestones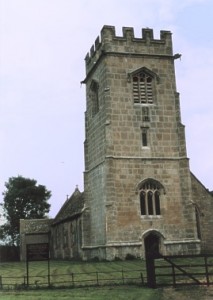 Given that other Ogbournes were found in the same 'Men & Armour ' record in Thornbury, one might be tempted to think that the Hardwicke concerned was the village of that name to the south-west of Gloucester City, and nearer to Thornbury, but the parish in which Symon is listed is clearly in the hundred of Westminster now known as Deerhurst. The Dean of Westminster was Lord of the hundred in those times, hence the name.
Two daughters were born to a Symon Ogborne and christened, and one buried in the Gloucester City church of St Mary Lode in the 1620s:
Anne OGBURNE C: 10 Jan 1622.
Father: Simon OGBURNE
Susanna OGBORNE C: 15 Mar 1628.
Father: Symon OGBORNE
Burial
unreadable first name & month N or M…… 30th ….. 1629
daughter of Symon Ogburn
The registers for for St Mary de Lode parish actually commence from 1675, and the Bishop's transcripts have therefore been searched for the above entries. 1619, half of 1621, 1627, and 1630 – 1636 are missing.
– Chapter IV dealing with the 'EARLY OGBOURNES' which includes much information about Symon.  See also information on Symon Ogbourne in the extensive information gathered by Fielding and Patricia Ogburn "A Collection of Genealogical Information about the Ogburn Family in the United States" dated 1980