Ogbourne,Ogborn,Ogburn,Ogborne, it makes little difference – all are variations of the same name. In the United States the name is more commonly spelt as Ogburn, though descended from people who at the time of emigration spelt the name as Ogbourne or Ogborne. It seems clear that the name was first used by people who had associations with the villages now known as Ogbourne St George, Ogbourne St Andrew and Ogbourne Maisey in the County of Wiltshire, south west England.
Brief histories of the parishes of Ogbourne St Andrew and Ogbourne St George are included in John Chandler's 'Marlborough and Eastern Wiltshire' published in 2001 by Hobnob Press, of Salisbury, Wiltshire, ISBN 0-946418-07-1
The two larger Ogbourne villages were mentioned in the Doomsday Book drawn up on the orders of William the Conquerer and completed in 1086 A very early form of the name was 'Occa's burn' which relates to the small river now known as the river Og which can be seen running through the villages on the map. At an early stage the name of the villages and the personal name became Ocheburn then Okebourne as in Walter de Okebourne, who was living in Wiltshire in 1273.
In 1149 a Benedictine Priory was established in Ogbourne St George from which clerks, perhaps using the name de Okebourne when going out as clerks after completing their training. In the 14th Century a number of people with the name "de Okebourne" were trusted servants of King Edward III in several of capacities. (see separate article on the Battle of Crecy 1346).
The name of Okeborne or variants often cropped up in the 15th and 16th centuries as priests – see the attached list of Rectors of the parish of Upton, near Northampton in 1432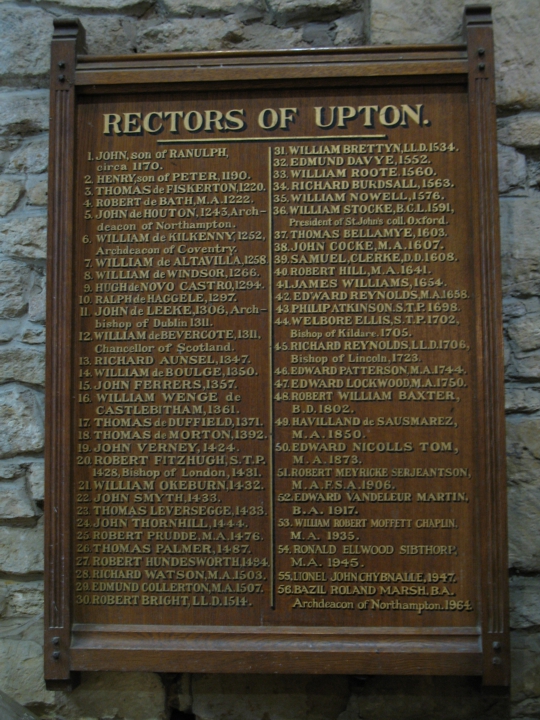 and  also in the list of Vicars of St Dunstan, next Canterbury in 1456
Vicars of St Dunstan, Canterbury[/caption]
Whilst the names of Ogburn and Ogbourne are now scattered widely Ogbournes have lived in close proximity to the villages mentioned above for at least 600 years, with a continuous line provable from 1606 existing in Wootton Bassett, Wiltshire, where the author of this homepage was born. In the centuries prior to the 17th the name crops up in official records in the Kingsbridge hundred,
a small area in Wiltshire of which Wootton Bassett was the principal town, including the following examples:
28 Nov 1277 William de Ockeburn was a juror in the case of John the Miller, accused of stealing corn
27 March 1280 Nicholas de Okeburn was aquitted with others under suspicion of larceny after being held in Marleburg [Marlborough]gaol
1306 Henry de Okeburn is included in names of jurors of the hundred of Kyngbrugg, Wyltes
1322 Margery de Okebourne is included in the tax lists for North Marston, Wilts and around the same time Geoffrey de Okeburn had a house, meadow and pasture at Upper Stratton, perhaps 7 miles from Wootton Bassett
If you are not familiar with Wiltshire, the story of the Wiltshire Moonrakers conveys some of the culture and nature of Wiltshire Folk. The attached poem tells the story in verse, and in the Wiltshire dialect. You have only to read it out aloud to aquire the dialect. The Wiltshire Moonrakers