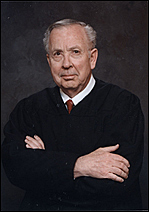 Judge Robert W Ogburn is a descendant of the very early settler Symon Ogbourne who arrived in Virginia in 1652 from England.  A particular interest is maintained in the family history of the Ogbournes/Ogburns in the USA and UK, and has contributed to the development of information for this website.  His book, The Ogburns: An Obscure American Family, was published in 2000.  In 2015, he published his memoir titled, Legal Reflections.
Robert "Bob" Ogburn attended the University of Michigan where he received his A.B. and J.D. degrees.  After graduating from law school in 1962, he served three years as an Army Captain in the Judge Advocate General's Corps, stationed primarily at Ft. Carson, Colorado.  He and his wife, Ann, moved to Monte Vista, Colorado for 39 years where he practiced law for ten years before becoming a district judge in 1976.  Judge Ogburn presided over many of the major San Luis Valley water cases in the past quarter century, as well as the area's high-profile criminal cases and complex civil litigation.  He retired as a full-time jurist in 2003.   In 2004, Judge Ogburn and his wife moved to Pueblo West where he continued to serve for ten years as a senior judge with assignments throughout Colorado.  He also served as a mediator/arbitrator until 2019.
In addition to his career on the bench, Judge Ogburn served as an instructor at the National Judicial College in Reno, Nevada and as an adjunct professor of pre-law studies at Adams State College in Alamosa, Colorado.  He also attended an advanced seminar in Anglo-American Jurisprudence at Oxford University in 1988.
A private pilot, an amateur historian, he authored numerous articles for historical and legal journals and has served as a board member of the Colorado Historical Society, and as a past president of the San Luis Valley Historical Society and the Pueblo County Historical Society.  In addition, Judge Ogburn was elected chairman of the Great Sand Dunes National Park & Preserve Advisory Council to advise the U.S. Secretary of the Interior with respect to preparation and implementation of a management plan for the national park & preserve (2003-2007).  Judge Ogburn also served as president of his law fraternity, Phi Alpha Delta,  He also served as a board member of the Pueblo Symphony Association for six years.