The Ogborne Family Of Ploughmen Who Ploughed Into The History Books With Over 1,000 Prizes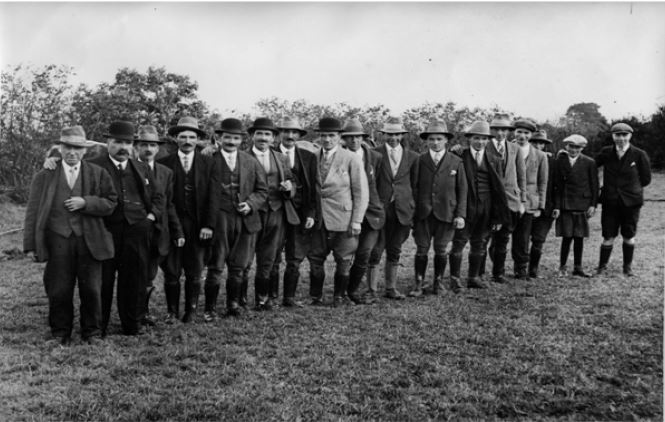 When ploughman John Ogborne, died 90 years old, a national newspaper, in an editorial, referring to the fact that he and 18 of his descendants had won over 1,000 first Prizes and Championships, stated,
"That this sort of family record, for which we shall soon search in vain, the annals of our countryside.As the enclosure destroyed the English Yeoman,so the tractor will presumably drive out the Ploughmen.
It would be absurd to pretend that there is not much gained in this progress. But there will also be loss, and the career of such a man as John Ogborne, is an illustration of how great that loss may be."
By John Bailey, May 1965  The Weston Mercury.

~~~~~~~~~~~~~~~~~~~~~~~~~~~~~~~~~~~~~~~~~~~~~~~~~~
The article quoted below was printed in: The Bristol Evening World. Oct, 13. 1932. By Elderd G.F.Walker, Also in :The Weston Mercury & Somerset Herald.May 14 1965. By John Bailey.As" Famous Ploughmen Of Mendip".Later;Weston Mercury. Sept. 25. 1987.As " Recalling Some Famous Mendip Ploughmen.Later;Weston Mercury. Sept. 23 1988.As "Men Who Ploughed Into The History Books."Later;Weston & Somerset Mercury. Sept. 6. 2002.As " Famous Ploughmen Of Mendip."
"The Ogborne Family of Ploughmen"
by
ELDRED G. F. WALKER (alias "North Somerset"):
"It has been writ, that he who made two blades of grass to grow instead of one was a benefactor of mankind, but surely a man who is father of six sons, each man a ploughman, and who induce the land to produce a loaf of bread when there otherwise would be none, indicates not something attempted, but something done."..Wrote Eldred G F Walker… "In my wanderings on the agricultural earth I have not met with anything to compare with the wonderful ploughing records of the Ogborne family. They are not of those race of ploughmen who purchase a prize plough withall its fitments and equipments to compete with at a local match, perhaps win a prize,and then take it home, free it from its adherent earth, wipe the paint, grease the polished areas, and then put it away in a quiet corner, until ploughing match days come again. In these days it is rather more than rule to pass over minor industries,and sneer at things agricultural because there dose not happen to be so much money in it as there is in commercial undertakings. Mr Ogborne, of Old Hill, Winford,instead of longing for the money which, being a bit of a farmer, he naturally had not,and therefore which he could not spend on his sons, sought to instil into them that by utilising their hands, properly assisted by a certain amount of brain power, they might become a fortune in themselves rather than an incubus on him, as they grew older. So at an early age he brought them up to work and hold the plough handles in such a way as to turn the straight furrow , that was in turn not only to provide themselves, but other people, with bread. It`s a family of which Somerset may well be proud.Last week I journeyed up Winford way and found Mr Ogborne, who is in his 77th year, digging out parsnips in one of the best cultivated fields that I have set eyes on for some time. It was a veritable smallholder`s field, a little of everything, and all looking well. And yet a few years ago I remember passing that field, before Mr Ogborne had it when it was a veritable bed of couch. It is no light task for a man when past 60 years of age to undertake such a task and accomplish it so successfully.
Now Mr Ogborne first blinked at the sunshine down Flax Bourton way; for fear that the surroundings might not prove congenial, they took him on to the neighbourhood of Nailsea, where he stayed to the matured boyhood of ten years. When he just went to work. He was happy in his selection of Winford, for there he got in the employ of the late Mr W Childs, who taught him to plough so well that he began to win prizes.Then he went a-courting, met Miss S. A. Griffin, and she in turn became Mrs.Ogborne.
Then he looked after the woods for a while, but returned to the plough,took a prize at Wrington, and when he was 60 years of age won the silver cup at the Winford Ploughing Match. "And I would go there again next week" he said "if it was not fear of whacking my sons."
And so at 77 he now resides at Old Hill and his wife at 75 regrets that she cannot help him as much as formerly, but someone must look after the trim home and tidy the garden. Such is a brief resume of the now grandfather of the family.
Now his sons have won innumerable prizes. The eldest son, Mr J.C.Ogborne, who now resides at Redfield Lodge Farm, Bitton, before he was 21 years of age, won 32 firsts, four seconds, and two thirds. Then he secured a most important appointment with Messrs Ransomes, Sims, and Jefferies, Ipswich, as their ploughing expert,which he still continues to hold. During a period of 29 years he has been present at hundreds of ploughing matches in England and Wales, and coached scores of successful ploughmen. Not to mix matters up, he has a son Leonard, who has been successful as a ploughman, and as he married the youngest daughter of that veteran ploughman, Mr Arnold Matthews. If there is anything in the laws of heredity Mr J.C.Ogborne`s grandsons will be ploughmen indeed.
My next journey took me to Redhill, Quarries Farm, where I called upon Mr William Ogborne, and here I found him with his team just hitched on to his plough for a little trial trip to show how the work should be done for Winford. And who,indeed, could do it better, for has he not won 106 first prizes, 10 seconds, 3 thirds,and many specials, besides silver cups.. He went to five matches, five years in succession and took five first prizes. He went up as far as Kingscote, and beat the Gloucestershire men – a marvellous record. Now it so happened at one time that there was a certain Goliath of the ploughing world, one Mr Woodward, of Herefordshire, who came to the Somerset ploughing match dinners, and said that he could bring a ploughman from Herefordshire who could whack any Somerset man into fits…The challenge was for £5. At the Blagdon and Charterhouse dinner, the challenge was accepted by Mr W. Ogborne, the match took place at Dundry, and Mr W. Ogborne won.
Now Mr Ogborne has little faith in ploughs rusting out, but that he believes in wearing them out, the two beasts held by his sons will show, and both of those boys,or rather, young men "as thur be no bwoys nowadays", are ploughmen. Arthur Ogborne, aged 20, has 6 firsts…, 2 seconds, and 1 third… To his credit, besides specials; and Charles Ogborne, aged 18, has 3 firsts, and1 second. Still, it will besome time before they can top their dad`s record, of taking eleven champion prizes in succession. There is evidently a considerable rise in the cost of living for a prize ploughman. Mr Ogborne assured me that the plough with which he won so many prizes, in the days gone by, cost £6 10s, whilst last year, he had to give £40 for two similar ploughs for his sons. This indicates that it costs a modern farmer a goodly sum to produce a sack of cheap wheat, which converted into flour and then bread, is sold at a price that does not lower the cost of living.
Not far from William, lives Mr Herbert Ogborne, at Corner Pool, the third son in this family of ploughmen, and Corner Pool and Broadfield Down are truly wonderful places in the annals of local ploughmen. Now, Herbert, being third boy, of course had not the chance of his older brothers, but this is his record. Up to the Wrington match last year he had taken 11 first prizes in succession, then he got knocked out on Mendip, where the judges` decision that time, was much questioned. He was also placed second to his brother in the Somerset raid on the Wick ploughing match funds last autumn, and was third to his brothers at Redhill last autumn. Now Herbert, has a son, Leonard, and this is the youngster`s record ; 1910 two firsts; Mendip, 4th ;1918 Redhill , 2nd; 1920, Redhill, 3rd, Mendip 4th; 1922, North Somerset, 2nd ;Mendip, 3rd, Redhill, 1st, And then a messenger was sent for the younger boy, Berty Ogborne, who was fetcher from Farmer Ashman`s, near by, and this sturdy boy began at Redhill, by taking 2nd, and has taken similar honours there in 1921 and 1922.
My next journey took me to the prettiest and best farm in Chew Stoke, and there Ifound the fourth son, Lionel George Ogborne, installed and surrounded by his growing family. Now it is his particular delight to relate that he had secured 32 ploughing prizes before he obtained his best prize of all, by getting married. Amongst the former successes were the Winford silver cup, sundry plate, and harness, and first at Dundry. Since becoming married, he has not had time to attend to prizewinning; still, for all that, he has added another three firsts, and found time to tutor his son John; who he started at the plough handles when he was 13 years of age. He has since then ploughed four times on Mendip and won three second prizes in succession, and last year took the first….not such a bad record, for a boy of 17 years…
Now the next son, Alfred, also resides at Winford. In his younger days he took to the plough handles and won a few prizes, but he considered that his dad and his brothers worked too hard at those plough handles, and so he resolved to seek his bread in easier form than growing it by means of his plough still his record of; ten firsts, four seconds, and one third, was not such a bad commencement if he had only continued at it. Now there remains of course the household pet, Walter. He was dad`s youngest boy, and being like the younger rising generation, a bit smart. He has managed to annex two of the Winford silver cups, a silver watch to be always on time., a wheelbarrow to wheel the potatoes in home, and a set of carvers, to cut up the family joint, when cooked. He managed to bring a few pound notes away from Mendip, to have a good time with, if he so desired, and he had a special…biscuit barrel, on Mendip. He took a special set of bodkins, guaranteed not to break and when he made his first start,, he won his first prize, a case of Maxwell`s whisky.Whether this put the proper spirit into him or not, he has since then taken over 30 prizes, though of course not all first. He has a boy aged ten whose fingers long to grasp the plough handles as daddy had done before him.
Such is a record of which any grandfather may well be proud. I doubt if it can be equalled, in this world`s agriculture , Here is the true secret of educating and bringing up a family on the land, and not away from it in obedience to the modern trend. Here the lads have grown to turn their own straight furrows on the land as well as in life, and walk them truly to the headlands. The material benefit to the country is great, as it leads to the keeping of horses and the production of home grown food. There`s a lot in Old Somerset yet, and it makes one think whether the glittering ploughshares of peace are far more valuable to us than the gleaming swords of war.Long may the Ogborne family continue their work"
~~~~~~~~~~~~~~~~~~~~~~~~~~~~~~~~~~~~~~~~~~~~~~~~~~~
These images, kindly provided by Mr Keith Ogborne of N Devon,   ( keith.ogborne@btinternet.com ) has been incorporated into a detailed narrative which we have received of the Ogborne Champion ploughmen.  Clicking on images will produce larger versions.