OGBORNE, DAVID (fl. 1740–1761), artist, married and settled before 1740 at Chelmsford, Essex, where he is described in the register as a 'painter' or 'limner.' He gained a certain reputation by his portraits of local provincial monsters, such as a winged fish taken at Battle Bridge, and a calf with six legs produced at Great Baddow; but he painted also a portrait of Edward Bright, a grocer of Maldon, Essex, who weighed 43½ stone, and died 10 Nov. 1750, aged 29.  Another of his portraits was of Thomas Wood, the miller of Billericay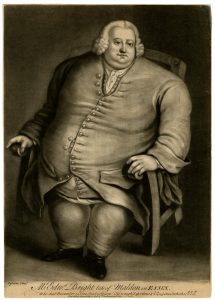 Ogborne is better known as the artist of 'An exact Perspective View of Dunmow, late the Priory in the County of Essex. With a Representation of the Ceremony and Procession in that Manor, on Thursday the 20 June 1751. Engraved from an Original Painting taken on the Spot by David Ogborne, published January 1752. Engraved by C. Mosley.' This presents the well-known 'flitch of bacon' ceremony, and shows in the foreground a portrait, more or less caricatured, of the then vicar of Dunmow. Another well-known Essex print by Ogborne is 'A Perspective View of the County Town of Chelmsford in Essex. With the Judges Procession on the Day Entrance attended by the High Sheriff and his Officers,' published 2 Aug. 1762, engraved by T. Ryland.
Ogborne also wrote some poetry and plays. Of these the only piece printed was The Merry Midnights Mistake, or Comfortable Conclusion: a new Comedy. Chelmsford printed and sold for the author by T. Loft,' 1765. The prologue and epilogue are by George Saville Carey. The piece was produced, with indifferent success, by a company of ladies and gentlemen at the Saracen's Head Inn, Chelmsford.
After 1764 Ogborne appears to have left Chelmsford, and the register there contains no record of his death.
By his wife Ruth, Ogborne had at least three sons. It is possible that John [q.v.] the engraver, and Elizabeth [q.v.], the historian of Essex, were his children by a second wife.
[Baker's Biogr. Dramatica, i. 647, iii. 37; Albert Magazine and Home Counties Miscellany, Chelmsford. December 1865, p. 78; Smiths Brit. Mezzotint Portraits; register at Chelmsford, per F. Chancellor, F.R.I.B.A.]