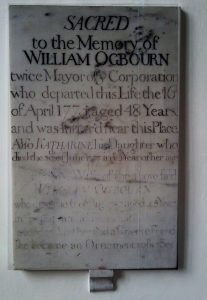 The plaque reads:
Sacred
To the memory of
William Ogbourne
Twice Mayor of [Axbridge] Corporation
Who departed this life the 16th
of April 1775, aged 48 years.
And was Interred near this place.
Also Katherine his Daughter who
Died the 30th June 1777 in ye 3?rd year of her age
also Ann, Wife of the above said
William Ogbourne
Who died the 6th August 1782 aged 45 Year
In being an affectionate Wife
A tender Mother and a fine friend
She became an ornament of her sex.
Beneath the plaque a stone is set in the floor which may indicate where William and his Wife are buried beneath the floor. 
Few people are given this honour, and we are keen to find out more of William's service to Axbridge.  William was born in Axbridge and was the son of Thomas Ogbourne from the village of Churchill a few miles north of the town, and Sexa* Marten (Maiden name), of Axbridge.   Ann died in Bristol in 1782,  and was buried in Axbridge as mentioned above.
*Yes an unusual first name,  shared by a number of members of her family.
NB Note from local historian in Axbridge:
"Some years ago I met a couple of female ranchers from the mid-west of the USA, who came over to Axbridge saying were descendants of the Ogbournes and showing me some deeds which they had. The deeds concerned a property which was leased from the Axbridge Corporation in the name of Sexa Ogbourne, who was William's mother – he also had a sister whose name was the same as her mother's. The ranchers, by the way, were both in their late eighties and still ranching!!"
For more information please use the form below to contact us if you think you may be connected to this family.