Page under development
Ogbornes were evidently residents of the South Gloucestershire town since the earliest times in the parish registers of the town. The excellent Thornbury Roots website sets out most of what you might want to know of the history of the town, which stands just north of the city Bristol.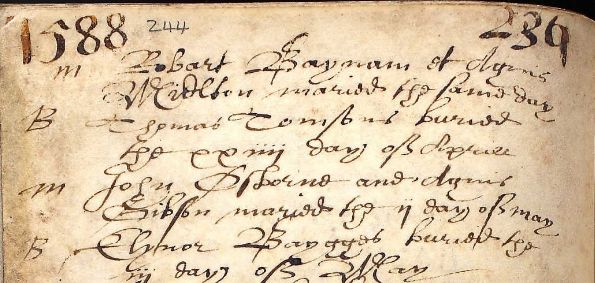 Thomas Ogborne married Agnis Gibson in 1588 and they were blessed with 8 children, 5 boys and 3 girls. It seems likely that Thomas was the son of Thomas probably of the same parish, and various descendants were shop keepers in the town – butchers, bakers and shoemakers.  William Ogborne was mayor of Thornbury 1676/7.
With the development of Quakerism in the 1640s The Quakers  established their own meeting hall in St John Street where the Quakers celebrated the births of their children and their marriages and where from 1720 onwards many of their dead were buried.  One of their number Thomas Thurston assisted people who wished to try a new life in north America to make the journey,  and achieved some notoriety in Maryland and other states with his own interpretation of the faith.  (for more information on Thomas Thurston see https://www.wikitree.com/wiki/Thurston-177