| | |
| --- | --- |
| The editor of this blog is John Ogbourne in Staffordshire UK, who can be contacted using the form below.  John was born in Royal Wootton Bassett, Wiltshire, where he has traced 11 generations of his family going back over 400 years.  John commenced family history research in 1980. | John Ogbourne |
| | |
| --- | --- |
| If you wish to make a comment on information on this website which would be helpful for others to see, please use the 'Leave a Reply' form which you'll find on the bottom of each page, or use our Facebook page. Comments are monitored before appearing on the sites to avoid spammers filling the site with information of no interest. | facebook.com/ogbourneogburn/ |
Grateful thanks are made for the information and encouragement provided by many people who have contributed, including His Honour Judge Robert Ogburn of Colorado who has given me great encouragement, advice and information, the late Mr Fielding Ogburn of Rockville, Maryland who made available the invaluable research information assembled by his late father Prof. William Fielding Ogburn, and the research of genealogical information on Ogburns in the USA published by Fielding together with his wife Patricia D Ogburn.  Mr David Ogburn is a great source of information on the African American Ogburns and the 'House of Ogburn' – it was a great pleasure to take part in the 1996 and 2000 reunions in Pennsylvania and Virginia.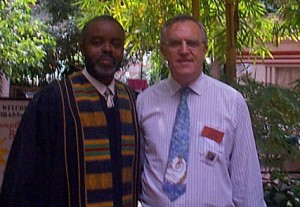 Mr Keith Ogborne of North Devon has provided a wealth of information on the Somerset Ogbornes.
I'll be very pleased to receive additional information of interest to people interested in the names of Ogb*rn*.