Stephen Ogbourne & The 3rd Anglo Burma War 1885-90
The war otherwise described as the North Burma Campaign took place when King Thibau of Burma was deposed by the British for getting too friendly with the French, and making life difficult for British companies trading in teak etc. For detailed information of this war see http://en.wikipedia.org/wiki/Third_Anglo-Burmese_War"
Stephen Ogbourne, born Wootton Bassett 1863, was awarded the Burma Medal 1885-87. Detailed information of his involvement has not been found, but it is clear from my grandfather's army records, that he played a role in this war. He was at Puyinmana, Burma and also in Rangoon at various times during 1886 and 1887.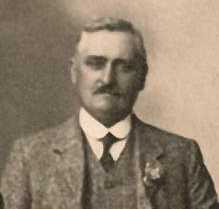 Stephen Ogbourne

The steamy heat of Burma seems to have come close to finishing him off. His illnesses were mostly described as 'Ague' and in one episode in Puyinmana Hospital the medical officer wrote "Ague, slight at first. Afterwards severe and taking of a serious remitting character accompanied by deafness. Considerable prostration and debility remain."
He returned to Calcutta, and then to England and completed his active service in November 1887. His record shows that he wasn't wounded during his service, and there were no mentions of gallant conduct. His character was recorded as 'Very Good' on discharge.
Enlistment
Stephen had enlisted in the 48th Brigade, East Kent Infantry in London in September 1880, giving his age as 18 yrs 4 months, though he was in fact just 17. He signed up for 12 years, the first 6 years on active service, and the remainder on reserve.
(Stephen Ogbourne was born on 15th September 1863, the 3rd of 7 children. His mother died when Stephen was 12 years old, and the youngest child (Ernest) was just 4 years old.)
He commenced service at Guildford, then Colchester and Aldershot.
Information about the postings detailed below are taken from his medical history – the climate doesn't seem to have suited him too much as he spent a total of 182 days in hospital spread over the 7 years he was in India /Burma before his return to England.
He landed in India on 5th November 1881, and appears to have gone immediately to Peshawar on the North West frontier, now part of Pakistan at the eastern end of the Khyber Pass, close to the border with Afghanistan. He was there for about a year. This followed a period when British forces were occupying much of Afghanistan and which led to the signing of the Treaty of Gandamak in May 1879
Stephen moved to Jutogh in March 1883, (close to the more well known Simla) and moved to Sabathu in March 1884. These places had army bases, though there seem not to have had any roads to them in those days. They are at about 4000 ft in the foothills of the Himalayas.
He next was in Cawnport in December 1884, where he was examined and passed fit for 'Pachmarhi' on 28th Feb 1885.
Stephen's period in India broadly matches the period in which Rudyard Kipling was in India – Kipling spent nearly a decade, from 1883-89 in India and Pakistan.
He was at Pachmarhi in March 1885 Pachmarhi, almost in the very centre of India, before being posted to Burma.
Stephen embarked for England on 1st October 1887. He married twice and lived mostly in Wootton Bassett, Swindon and Brinkworth, Wilts where he died in 1940.